How to make an offer
Use the link in the bottom left of the description page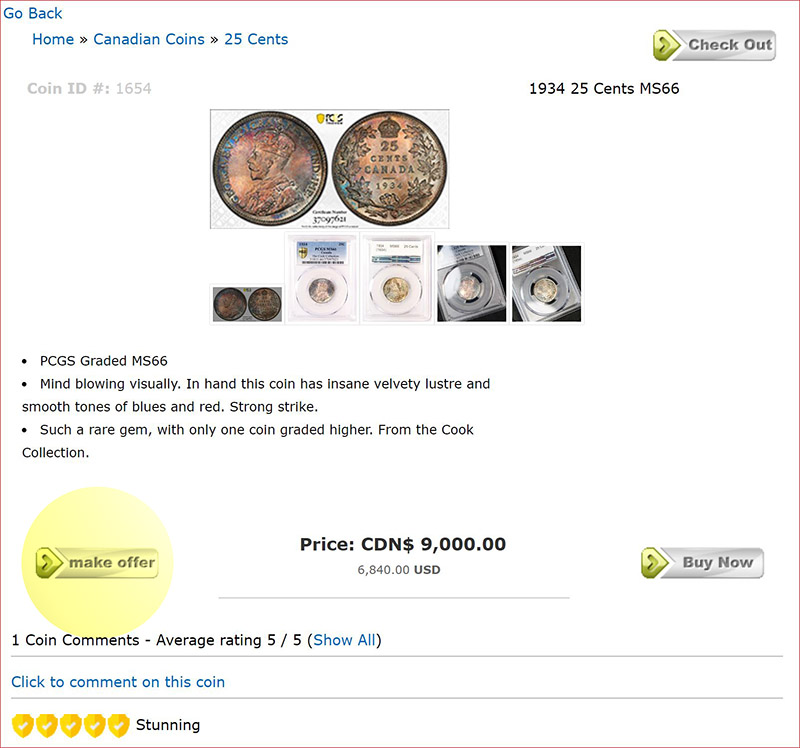 All the coins on this site are listed with full trend values, perhaps even Charlton values and in some cases they may be listed higher.
Guide pricing changes all the time, and the value of a coin is basically derived from historic sales pricing. Common coins generally sell for much less, while coins that are rarely offered tend to demand closer to full trends and many many times over trends. This is true in the fact that the coin would decrease in value over time otherwise.

There are many occasions that the same coin sells in a wide band of pricing, while one day that coin could fetch a decent premium over trends, the next day it is sold for much less. Timing and availability are factors many people do not consider.

Here we feel the opportunity to negotiate a fair price provides tremendous online value. So please when you're browsing the coins and something catches your eye, make an offer as you would at a coin show or at the shop.

Our goal is to make a small profit so we can continue this hobby / business, while we recognize your goal is to acquire the coin you want for the least amount of fiat currency!